Cold And Flu
Colds and flu (influenza) share many of the same symptoms with allergies, but they are distinct illnesses and getting to know the differences can help you find the right relief.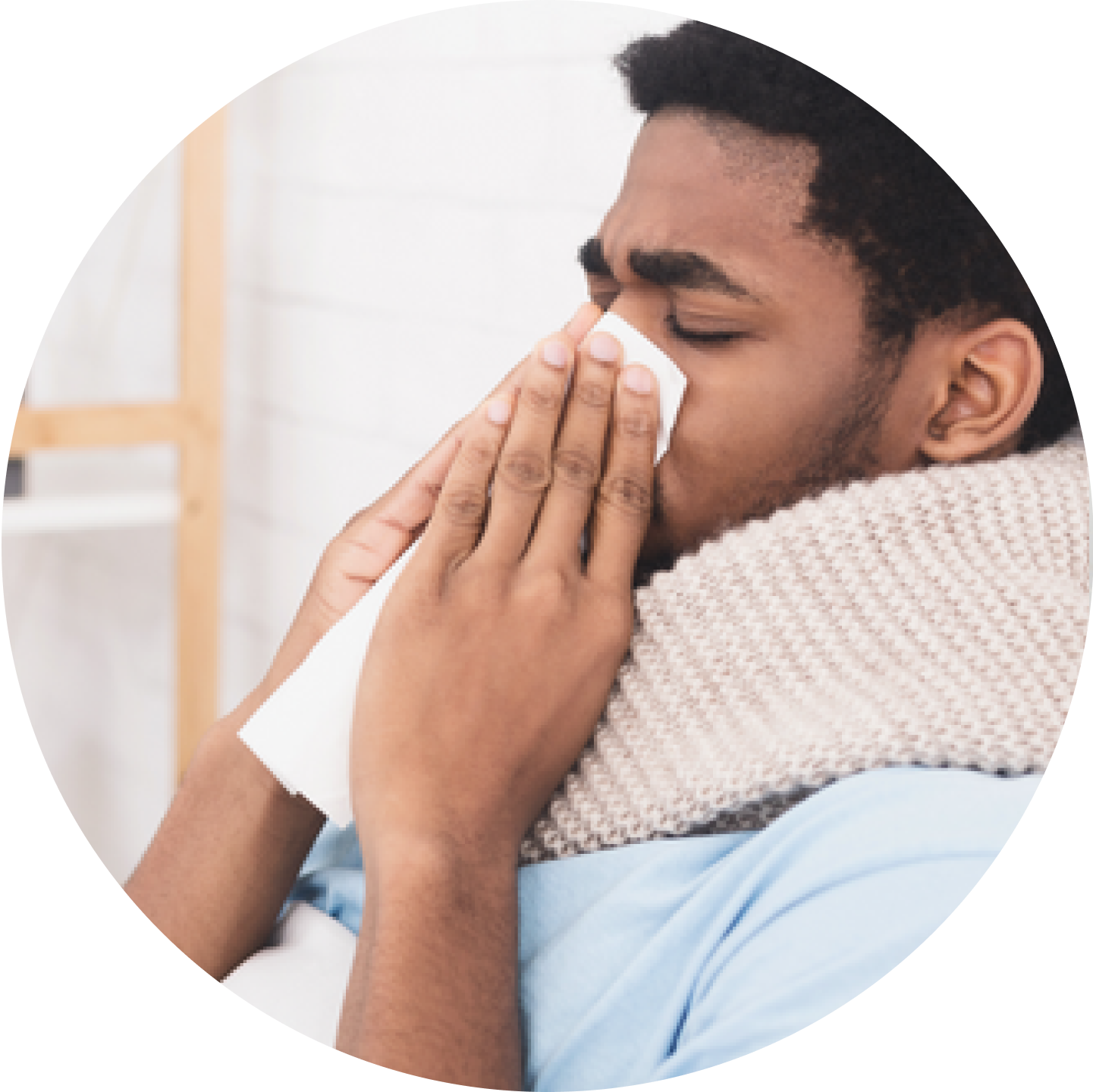 What is a cold?
A cold is a viral infection that affects your upper respiratory system (that's your nose and sinuses, throat and windpipe) causing the symptoms we are all too familiar with, such as sneezing, , a runny nose, a blocked nose or a sore throat.
With adults getting around 2 to 4 colds per year and children having as many as 5 to 10 per year, colds can be a very common problem for everyone. There are hundreds of different cold viruses and they are easily spread from person to person.
Difference between a cold and flu
A cold or flu? When you're feeling miserable with a blocked nose , sore throat or sneezing, it can be hard to tell as they both have similar symptoms, but generally:
Cold symptoms are usually milder than flu symptoms
Colds do not usually cause any serious health problems
Colds and flu share many of the same symptoms.
Cold symptoms include:
Flu symptoms include:
Sore throat
Cough
Fever
Chills
Muscle aches
Joint pain
Upset stomach
Cold and flu can lead to infections of other parts of the body causing symptoms linked to complications such as ear or sinus infections
What is the flu?
Flu is caused by the influenza virus and can affect your nose, throat as well as your lungs and other areas of your body.
The flu is one of the most common types of infectious disease around and although you can catch flu at any time of the year, it is usually more common in the winter months when we tend to stay indoors more and are in close contact with other people.
How to treat cold and flu symptoms
Usually, a cold or a bout of flu will last for about 7-10 days and
most people will get better without treatment.1d But there are things you can do to help relieve cold and flu symptoms and
make yourself feel more comfortable, and breathe easier, including:
Washing away irritants and infectious material
Thinning and helping to clear thick mucus
Moisturising and soothing nasal tissues
Allowing your nose's natural immunity to help against disease
Using a nasal decongestant spray – such as FLO Rapid Relief to help quickly relieve a runny nose or blocked nose. Always follow the instructions when using decongestant sprays as using FLO Rapid Relief for more than 3 days can make congestion worse.
If your symptoms are not getting better or are getting worse or you are feeling concerned about any of your cold or flu symptoms, then see your doctor.
Our Cold & Flu Symptoms product range
FAQs
Can you use nasal spray with cold and flu tablets?
There are lots of different cold and flu medicines readily available from your local pharmacy or supermarket.1a These medicines are designed to help relieve your cold and flu symptoms and can contain more than one active ingredient, such as a decongestant for a blocked nose and a pain reliever.
There are also different kinds of nasal sprays, so it's important to know which one you're using. For example, there are non-medicated saline nasal sprays and medicated sprays (such as those containing a decongestant, steroid or antihistamine).
Always check with your pharmacist or doctor before taking any medication as some products may not be suitable to be taken together.
ALWAYS READ THE LABEL AND FOLLOW DIRECTIONS FOR USE
How long is a cold contagious?
When you have a cold, you will generally be contagious for up to 2 weeks. This includes a few days before any of the symptoms appear, right up until they all go.
You're most likely to spread a cold during the first 2 to 3 days when your symptoms are at their worst.