Sinusitis and Sinus Congestion
When sinuses become irritated and inflamed, congestion, pressure and pain can follow. Although it may be caused by a variety of factors, there are ways to soothe the inflammation and help you find relief from congestion and other painful sinus symptoms.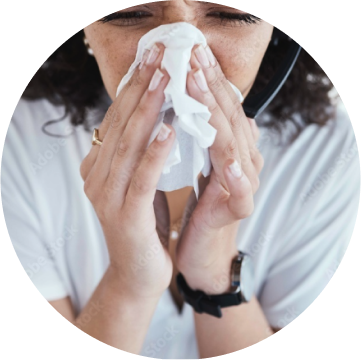 What is sinusitis?
Sinusitis occurs when the lining of your sinuses and nose become inflamed and swollen, sually as a result of allergies or an infection.
Your sinuses are small, air-filled spaces inside your cheekbones, forehead bone and the bones beside and behind the nose. Mucus made in your sinuses normally drains into your nose and throat helping to keep everything clean and clear. But sometimes things go wrong:
The lining of your nose can become swollen and thick
Your sinuses can become fully or partly blocked by think mucus and swollen nasal lining
Mucus can build up in blocked sinuses
Sinuses may remain inflamed and swollen after an infection or allergic reaction has cleared up.
Acute sinusitis
A sinus infection that quickly develops over a few days and only lasts for a short time is called acute sinusitis.
Acute sinusitis usually only lasts for a week or so
Most people will only have a mild form of acute sinusitis
A viral infection, such as a cold or flu , is one of the most
common causes.
Acute sinusitis will usually clear up by itself, but you can treat the symptoms to make yourself more comfortable. This can include using nasal saline sprays or washes such as FLO Saline Plus , FLO Nasal Mist or FLO Sinus Care and nasal decongestants such as FLO Rapid Relief to help relieve nasal congestion and a blocked nose.
Chronic sinusitis
Chronic sinusitis is where sinus inflammation and symptoms persist for much longer than those of the more common acute sinusitis:
Chronic sinusitis is sinusitis that lasts for longer than 12 weeks
It usually develops following an acute sinusitis infection
Symptoms can remain after the initial infection has gone
A long-term allergy can also cause sinus inflammation and congestion.
Chronic sinusitis is usually unlikely to clear up on its own unless the underlying cause is first treated. Symptoms such as congestion can be relieved by using non-medicated saline washes, such as FLO CRS, while a steroid is used to help reduce inflammation and swelling.
An antihistamine may be recommended if an allergy is linked to your sinusitis.
Antibiotics are only used if your doctor thinks there is a bacterial infection causing the sinusitis.
Sinusitis symptoms
Symptoms that commonly occur with sinusitis include:
A blocked nose involving one or both nostrils
A runny nose (with green or yellow mucus indicating a possible bacterial infection)
Pain, tenderness or pressure around the infected sinus or a headache
Pain that gets worse when you bend your head forwards
Reduced sense of smell
A fever when caused by a bacterial infection.
What causes sinusitis?
The mucus produced in your sinuses usually drains into your nose through small openings. When you have sinusitis, these openings become blocked due to the sinus or nasal linings becoming swollen.
Sinusitis is usually caused by a viral infection such as a cold or flu, but sometimes bacteria can also infect the sinuses making the infection worse and symptoms last longer.
Other factors linked to sinusitis include:
Allergies such as hayfever
Nasal polyps (growths inside the nose)
Injuries to the face or nose
Any medical procedures involving the nose
Pregnancy
Smoking
How to treat sinusitis
There are things you can do to help relieve sinusitis symptoms and make yourself feel more comfortable and breathe easier.
FLO CRS non-medicated nasal and sinus wash helps provide cleansing relief for sinusitis symptoms.
Designed with xylitol and a low sodium and potassium formula
Does not interfere with factors in the nose which are needed for immunity.
FLO Sinus Care is a non-medicated nasal and sinus wash that helps relieve congestion associated with sinusitis by flushing away pollens, irritants and excess mucus.
Using non-medicated saline nasal sprays – such FLO Saline Plus for adults and FLO Baby Saline Spray or FLO Kids Saline Spray for children – can help by:
Washing away irritants and infectious material
Thinning and helping to clear thick mucus
Moisturising and soothing nasal tissues
Using a nasal decongestant spray – such as FLO Rapid Relief – to help quickly relieve a blocked nose or runny nose. Always follow the instructions when using decongestant sprays as using FLO Rapid Relief for more than 3 days can make congestion worse.
If there is an underlying problem that may be linked to your sinusitis, such as an allergy, treating this will usually help relieve your symptoms.
Antihistamine nasal sprays such as Eze Allergy can treat symptoms of hayfever and other allergies, such as a blocked nose as well as sneezing and a runny or itchy nose.
If your symptoms are not getting better or worse after about 10 days or you are feeling concerned about any of your symptoms, see your doctor.
Our Sinusitis and Sinus Congestion range
FAQs
Are sinus infections contagious?
A sinus infection, or sinusitis, can be caused by a number of things including bacterial infections, viral infections such as cold and flu or allergies.
A sinus infection, or sinusitis , can be caused by a number of things including bacterial infections, viral infections such as cold and flu or allergies – but once sinusitis develops, it is not contagious and cannot spread to other people.
How long does a sinus infection last?
A sinus infection (sinusitis)usually clears up after about 2-3 weeks.
Talk to your doctor if your sinusitis symptoms have not started to improve after about 7-10 days or they are getting worse.
It is also a good idea to talk to your doctor if you keep getting sinus infections.